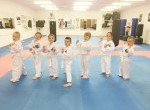 Super Tots
Our Super Tots program is for ages four and five. In our Super Tots class, the students learn some basic strikes and kicks, but we focus on attention span and self-control. This class is fun and fast paced and meets once a week for forty five minutes.
Children's Class
Our children's classes are for ages six to twelve. In this class, students learn a lot more techniques than in super tots class, but still the focus is more on discipline and self-control.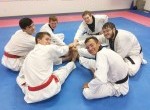 Adult Class
Our adult classes are for those students who are thirteen and over, and the focus is more on fitness, self-defense and learning the art of taekwondo. We are a traditional taekwondo school, so discipline is an important aspect of all of our classes.